With another month comes another PPV! This Sunday, TNA kick off 2012 with their annual Genesis event. Assembled below are the official Canned Heat picks...
Tag Team Championships - Crimson & Matt Morgan (c) vs Magnus & Samoa Joe OR AJ Styles & Kazarian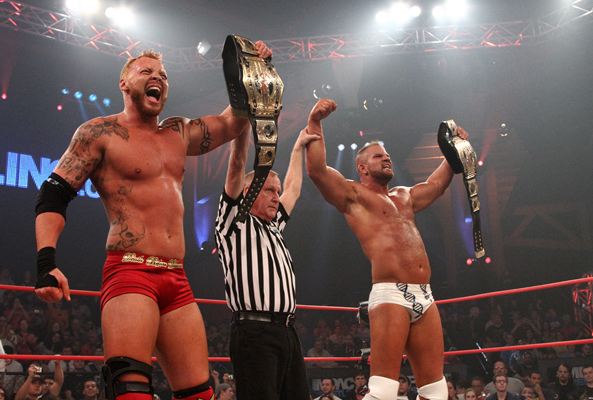 After the most bizarre tournament in the history of professional wrestling, we will soon have our Wild Card winners and new number one contenders. While I'm thankful that TNA are addressing the obvious problems with their tag team division, I'm not entirely sure this is the right way to go about it. You can't just throw random singles wrestlers together and pretend everything is fixed. Even the champions fall prey to this problem, as Sting just threw them together randomly a month ago on Impact. As for which of the Wild Card teams I want to go through and challenge for the titles, I could see it going either way. AJ and Kaz being together makes perfect sense, what with their history in Fortune, and with enough time put into them, could even be considered a proper tag team. However, I could definitely see TNA throwing Magnus and Joe a bone too. Either way, the challengers won't be successful on this attempt. Crimson and Morgan are still continuing their own feud, using the tag team division as a stepping stone. I don't think they're quite done with those titles just yet.
Prediction - Crimson & Matt Morgan retain the Tag Team Championships after a miscommunication between Magnus and Joe.
Monster's Ball Match - Bully Ray vs Abyss
This match has been building since Bound for Glory and Monster's Ball is definitely the right way to pay it off, especially with two hardcore brawlers. The remnants of Immortal have been running scared from Abyss and consistantly had their asses kicked in the process. While Abyss going over would certainly do wonders for his monster routine, I have a feeling Bully Ray and his cohorts need this win more if they are ever going to be taken seriously as a threat again. Never mind the fact I don't know why the majority of Immortal are still together despite having lost all backstage power months ago.
Prediction - Bully Ray gets a tainted victory as his stablemates run in and beat down Abyss until he can't answer the pinfall.
They say the definition of madness is doing the same thing over and over again and expecting a different result, and that's the only way to describe this feud. This angle has already run for the majority of 2011 and now it's making 2012 it's bitch to boot. Starting out on the Internationally syndicated show Xplosion, Pope has been worming his way into Devon's family for as long as I can remember. I think there were some initial allusions to making moves on Devon's wife, but for the most part it's come down to brainwashing his twin boys. I can only assume Devon's sons are looking at professional wrestling as a career because there have been genuine wrestlers on TNA's roster that have been seen less than these two. After an entire year of boring me senseless, I can't imagine this match will change my mind.
Prediction - Devon wins, only to have his sons side with Pope and beat him down anyway.
Knockouts Championship - Gail Kim (c) vs Mickie James
Right up front I admit these two are the pinnacle of women's wrestling today. They've got a wonderful mix of talent and personality, putting other competitors to shame. However, we've seen this match several times over in short order and I can't imagine their programme will run for much longer without turning into a best of seven series. I find it rather a shame that all of their matches have relied upon interference from Madison Rayne and would much rather see a clean match than the usual heel tactics. Considering Gail has already had a number of victories over Mickie, this feels like the moment for payback.
Prediction - Mickie James wins the Knockouts Championship after a failed attempt at inteference by Madison Rayne.
X Division Championship - Austin Aries (c) vs Kid Kash vs Jesse Sorensen vs Zema Ion
The booking of the past month's X Division bouts downright puzzles me. The Champion and two of his contenders have basically been absent the entire time apart from some guest commentary on Aries part. Instead, the past three weeks have focussed exclusively on a best of three series between Zema Ion and Tony Nese, two men who've barely been seen, let alone used, in the six months they've been under contract. Booking logic would dictate that the winner of such a series must go on to win the Title, otherwise it was all for naught. However, since when were TNA bound by logic! Despite my reservations at the curious booking, I'm actually rather excited for the match and it stands a good chance at stealing the whole show. All I ask is that after this final bout, Austin Aries is allowed to move on to a new contender for his Title and the variation of matches between these four men is brought to a close.
Prediction - Austin Aries retains his X Division Championship with a surprise rollup after his fellow competitors are distracted brawling on the outside.
Kurt Angle vs "The Cowboy" James Storm
At first, I was rather perplexed as to why you would take Storm away from his sure-fire feud against his former Beer Money partner, Bobby Roode, but this diversion against Kurt Angle has been pleasantly surprising and worked wonders for Storm's credibility. Holding a win over a man some would say is the greatest professional wrestler of all time is a hell of an honour and takes him even further up the totem pole than winning the World Heavyweight Championship. This rematch will prove particularly interesting, as it could raise Storm higher than ever before or send him packing. I have a feeling they may want to drag this feud out for at least one more month, so I wouldn't put it past them to have Angle cheat and bring about a decider at the Against All Odds PPV.
Prediction - Kurt Angle wins after spraying James Storm's own beer into his eyes.
World Heavyweight Championship - Bobby Roode (c) vs Jeff Hardy
In the past, TNA have had a HUGE soft spot for Jeff Hardy. No matter his faults, they'd put the Title on him, no questions asked. He's undoubtedly the most popular wrestler on the roster, however questionable his behaviour may be. The real test will be whether he shows up sober. I'm really hoping they resist the urge to hotshot the Title onto him and brand it the ultimate redemption story (as it clearly isn't). Bobby Roode on the other hand, is a tried and tested workhorse the company SHOULD be investing in for the long term. He's turning in excellent matches, solid promos and given a few major wins, could be a superstar in the making (and not in the WWE sense of the word). I'm trusting TNA to stick to their guns and continue building up Bobby Roode, as losing the World Title now would be disasterous to his push. Assuming Roode does pick up the win and retain his Title, it would function in much the same way as James Storm's recent win over Kurt Angle, using victories over established talent to give credibility to the next generation. It's not rocket science, but you'd think so sometimes.
Prediction (aka praying) - Bobby Roode retains the World Heavyweight Title by submission after an attempted Twist of Fate is reversed into a Crossface.